Kats for Christ is the campus ministry of Huntsville Church of Christ serving Sam Houston State University. We strive to provide a place for college students to deepen their relationship with Jesus and other Christians. Like us on Facebook – Kats For Christ – to get regular updates on our ministry and events.
PURPOSE
The purpose of the Kats for Christ ministry is to be the incarnation of Christ on Campus, listening diligently to the Lord, then acting boldly in love. We proclaim the gospel of Jesus Christ at Sam Houston State University not just through hearing the word, but also by experiencing the community, serving others, empowered by the Spirit of God. We focus on doing the "dirty work" of community, going beyond learning to orient ourselves personally to Christ and focus on spiritual highs to get us through life, to truly living as part of his body.
GATHERINGS
Something is always going on with us! The building buzzes with activity from morning to night. We welcome you to be involved as frequently or infrequently as your schedule allows.
Monday Nights
Monday nights we have small group men's and women's Bible studies.
Tuesday Nights

Tuesday nights offer KFC After Dark, a diverse, experiential study where we purposefully go down some of the less traveled, sometimes difficult sections of Scripture.
Wednesday Nights

Wednesday night is when we gather for Family Dinner at 5:30 for a free, tasty meal. Then the Align Bible Study at 6:30 Wednesday follows Family Dinner. It is a conversational study focused on developing the church in 1 Corinthians 14:26-29 - a church where everyone comes with something that builds the community up in Christ.
Sunday Services and Class
Some students are very active and involved with the Huntsville Church of Christ, while others go elsewhere. We have a college class in the HCOC at 9am. Sunday church gathering with the whole congregation begins at 10am. The HCOC congregation is very engaged and loving towards SHSU students. Nearly all of our students who choose that as their home congregation leave Sam Houston State enjoying life long friendships with older members. They are the best!
SHARE Groups
Our college students are invited and encouraged to join with other members at HCOC in small groups that we call SHARE groups. This is a great opportunity for students to get to know other Christians and be supported and encouraged.
And the rest of the week ...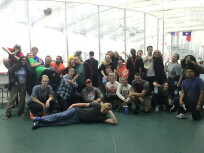 Interspersed throughout the rest of the week we do activities and service projects such as Broom Ball, homemade pizza nights, paintball, movie nights, and yard work for the elderly.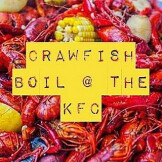 KFC Trips
In the Fall Term we do a weekend Mystery Trip.
In the Spring we do a service trip over Spring Break.
During the summer there is an opportunity to join the HCOC every other year on their service trip to Honduras. We also do a spiritual retreat.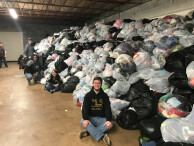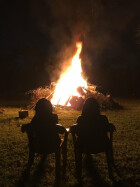 FREQUENTLY ASKED QUESTIONS
If you have other questions, please contact our Campus Minister Todd Tipton.
; Phone 231-571-4721
What do we do?
We do a lot of things at the Kats for Christ, but everything we do is aimed at fostering Christian community for college students. We gather for times of worship, prayer and study. We do service work, hang out together and go on trips and retreats. Check us out on Facebook for specific details on upcoming events.
Where are we located?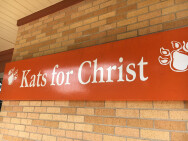 Our KFC Building is located on the SHSU campus at the corner of Avenue J and 17th Street – 1705 Ave. J, at the bottom of the hill. Our building features large "KFC" letters on the front of our building.
Can I get a ride to church if I need it?
Since many students live on or near campus, it should be no problem to find a ride to church. We currently do not have a regular system established for rides, so if you would like help in finding a ride to church, contact Todd or talk to one of our student leaders.
Who supports Kats for Christ?
We are primarily supported by the Huntsville Church of Christ, along with other churches and individuals who support our ministry through financial assistance, relational investment, and prayer. If you or your church would like to support our ministry and efforts in any way, let us know!
What if I don't attend HCOC?
We have many students who only participate in KFC events or students who worship elsewhere besides HCOC. We simply preach Jesus and want to share life with all individuals who are striving to live for Him.
Do I have to officially join the Kats For Christ to be a part of it?
Not at all! Come to anything you want. You will get more out of the experience if you commit but many students participate in the Kats For Christ who are not official members. Because we are an official student organization on SHSU campus we are required to have organizational leaders and official membership, so if you would like to officially join we would love to have you!
Current Job Posts for Kats!
Kats, please click here for a list of current positions.