Women's Ministry
Heartfelt Friends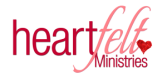 Heartfelt is a Titus 2 women's ministry founded by Joneal Kirby in 2003 for her home church in West Monroe, Louisiana. Heartfelt is a mentoring ministry designed to develop closer relationships across generations among the women in the church and to deepen their relationship with Jesus Christ.
Heartfelt is for women of all ages and stages - from 18 to 108! We are moms and daughters, sisters, friends. We are all friends who become family.
Find out more & how to get involved at THE HUB in the church foyer. We hope you will join us as we dig in to God's word, some good food and lots of fun fellowship!
Food MInistry for the Bereaved
The purpose of the food ministry is to meet the immediate needs of families who are bereaved. The committee contacts the bereaved family and gathers information regarding the day, time and place for the meal and how many family members will be in attendance. The meal will be planned using the list of those who have volunteered to provide food. These volunteers will be rotated as much as possible.
If the need for food arises in your family, please contact the church office and you will be directed to a ministry volunteer.
Ladies Special Events
This ministry gives our ladies an opportunity to grow closer to each other as well as an opportunity to share in our fellowship. Activities can include:
Ladies Days
Ladies Retreats
Semi-annual Friendship Circle
Dinner & A Movie Nights
Mother Daughter Banquet